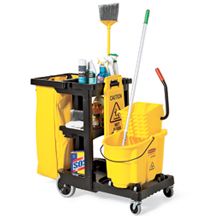 As you approach the public restroom, you see the cleaning lady taking down the sign that says "Bathroom Closed for Cleaning." She's placing the Windex back in her rolling cleaning command center. You realize that at this moment, this specific bathroom is at its highest level of cleanliness. You open the door with confidence.
There will be no shit-cloud lying in wait ready to bitch slap you with stench. The poop mosaic on the back of the bowel has yet to be commissioned. The drips of urine that puddle in front of the urinal are not present. There isn't even the accumulation of excess soap below the dispenser.
This refurbished world is new and untouched. I feel like Columbus or Neil Armstrong? Am I pioneer, trailblazer or thrill seeker? No, I'm a merely a dude with impeccable timing. As I exit, I pass a co-worker in the hall on his way to the restroom. "Today's my day, Bill," I say in passing. "What?" he replies.
No matter how beat down you claim to be, never miss a chance to celebrate a victory. Some days you win. Some...days...YOU WIN!!! (Mat thrusts his fist into the air)